Today there is an insatiable appetite for data and digital services, isn't it? What if we could just remove the oversized environmental footprint, where data centers operate cleanly and efficiently? That too with all the increasing profits. This vision is no longer too far-fetched and the same can be achieved with sustainability.
However, it demands coordination on an unprecedented scale. No single organization can steer the industry onto a sustainable path alone. It might raise a question in your mind as to how to do that. The most effective answer is attending summits. In this article, we talk about one of the most anticipated events i.e. Net Zero Data Centre Summit. It takes place on February 1-2 2024 in Berlin, Germany. Let us know more about the event ahead and why you should be attending it.
What is the Net Zero Data Centre Summit about?
As data center electricity consumption spirals upwards, surpassing 205 terawatt-hours per year, the technology industry faces an urgent reckoning to curb emissions and energy usage. With exponential growth in connected devices, estimates suggest the IT sector may account for up to 20% of total global energy demand by 2030.
This untenable trajectory demands immediate and sweeping changes to how data infrastructure is powered and operated. Data centers already consume more than entire countries annually. Without dramatic innovation, runaway energy consumption and costs threaten to overwhelm the industry.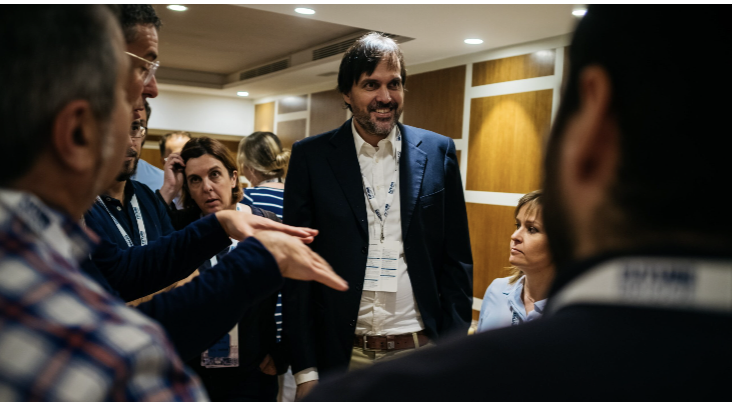 To tackle this existential crisis, the Net Zero Data Centre Summit gathers over 100 sustainability pioneers across the IT ecosystem. Sessions will illuminate pathways for existing and new data centers to achieve net-zero emissions. Cutting-edge technologies in cooling, automation, and integration of renewables will be unveiled. Moreover, real-world case studies will reveal how leaders are making their facilities ultra-efficient.
The summit focuses on driving unprecedented collaboration between competitors, researchers, vendors, and policymakers. Together, they will forge the partnerships and systemic solutions needed to steer one of the world's most energy-intensive industries onto a sustainable path.
Nothing less than the industry's future viability and license to operate hang in the balance. The Net Zero Data Centre Summit represents a critical opportunity to align on bold climate action before it's too late. Attendees will help lead the transition to a cleaner digital ecosystem we can all thrive for decades to come.
What will the Net Zero Data Centre Conference cover?
The Net Zero Data Centre Summit will explore a range of solutions to curb the technology industry's environmental impact. So, core topics on the agenda include:
Reducing Data Centre Energy Consumption
Sessions will highlight strategies and technologies to optimize energy efficiency in data centre operations. Moreover, experts will share best practices for workload optimization, power management, and other techniques to minimize electricity waste.
Best Energy Efficiency Technologies
The summit will showcase cutting-edge infrastructure innovations that dramatically improve sustainability. This includes emerging cooling designs, intelligent automation platforms, microgrid technologies, and more.
Sustainable Heat Transfer and Waste Heat Management
With heating representing a major data centre energy cost, the event will examine advances in heat reuse and recycling. Moreover, speakers will discuss innovations in thermal energy storage, heat pump integration, district heating utilization, and other methods to repurpose waste heat.
Cooling Solutions
Experts will evaluate low-carbon cooling approaches for data centres, including immersion, evaporative cooling, and more. So, attendees will discover technologies tailored to their facility requirements and climate conditions.
Automation and AI-Enabled Data Centres
Sessions will explore how intelligent software solutions can optimize energy efficiency. Additionally, presentations will reveal how machine learning and automation can continuously fine-tune workload distribution, cooling, and other parameters.
Integration of Data Centres with the External Environment
The event will also address synergistically embedding data centre infrastructure within community energy systems. Moreover, discussions will weigh options like feeding excess heat into district networks and participating in demand response programs.
By covering these pressing issues from all angles, the summit empowers attendees to make substantial progress on green data centres.
Who will be the expert speakers at the Summit?
In this section, let us introduce you to some of the expert speakers of the event and what they will be covering. There are many more speakers on the list who would provide the utmost value as well. So, let us look at a few of them:
Svein Atle HAGASETH
Designation: Chief executive officer at Green Mountain
The speaker will cover crucial strategies for reducing data center energy consumption. They will also speak on maximizing efficiency. Attendees can expect insights into energy-efficient technologies. You will also see innovative data center designs and methods. This is for determining peak operational effectiveness. Furthermore, the session will focus on performance monitoring. Also, it will look at green energy utilization, and explore the potential of microgrids. This is to create a sustainable and eco-friendly data center environment.
Donna BRIDGMAN
Designation: Vice President – Design & Engineering, APAC at Vantage Data Centres
The speaker will address the intersection of data center sustainability. This is with socioeconomic responsibilities and business sense. Key topics include understanding drivers for sustainability and tackling the industry's biggest challenges. It also includes implementing effective performance measurement and reporting strategies. Attendees can expect valuable insights into aligning environmental responsibilities. This is with business objectives in the context of data center sustainability.
Paolo BERTOLDI
Designation: Senior Expert, Energy Efficiency at European Commission
The speaker will delve into the critical aspects of developing data center sustainability regulations and certification. It will emphasize both national and international regulatory requirements. Ensuring compliance with Scope 4 demands will be discussed. So, it will raise essential questions about the adequacy of focusing solely on greenhouse gas consumption and emissions. The session will highlight best practice reporting methods. It includes non-carbonization approaches alongside decarbonization efforts.
Jaime COMELLA GÓMEZ-ALLER
Designation: Lead Data Centre Architect at AQ Compute
The speaker will provide a comprehensive analysis of innovative cooling solutions for data centers. Furthermore, they will focus on emerging technologies such as direct liquid cooling, heat reuse, thermal storage, and more. Attendees can expect insights into selecting the most suitable cooling system. These are the ones tailored to their specific requirements, emphasizing the maximization of energy efficiencies. The session will also address the sustainability aspect. As a result, it will explore the most eco-friendly solutions in data center cooling.
Lex COORS
Designation: Chief DataCenter Technology and engineering officer at Digital Realty
The session will focus on sustainable heat transfer and waste heat management strategies within data centers. Attendees will gain insights into the business advantages of heat transfer and reuse initiatives. Furthermore, it will emphasize collaboration with local grids and communities. The discussion will also cover the establishment and implementation of heat-sharing/reuse agreements. This is along with effective contract management practices.
David Hall
Designation: SVP Colocation at AtlasEdge Data Centres
This session delves into the transformative potential of Edge computing. It will elucidate why it stands as the future's only sustainable data center hosting strategy. Attendees will explore how the Edge paradigm revolutionizes traditional data center energy consumption. As a result, it will offer local, large-scale energy storage solutions. Moreover, it discusses the positive impact on local communities. So, it emphasizes the efficiency gains achieved through innovative cooling techniques and advanced battery and energy storage technologies.
The list of speakers contains more experts who will speak on essential topics like What ESG really means in data centres and how location may be the key, Exploiting the exciting opportunities offered by AI to maximize data centre efficiency and cost-effectiveness, and more!
Why you should attend the Net Zero Data Centre Summit?
In this section, we will help you understand why you should attend the Net Zero Data Centre Summit. So, here are some reasons:
Access Leading Minds in Sustainable Technology
The summit provides unmatched access to pioneers pushing the envelope on green data centres. So, attendees can engage directly with experts to exchange insights that transform perspectives. Moreover, thought-provoking discussions will spur fresh ideas to tackle complex energy efficiency challenges.
Gain Cutting-Edge Strategies
With a carefully curated program, the summit delivers the latest need-to-know strategies and technologies. Attendees will also stay ahead of the curve in maximizing efficiency, integrating renewables, and achieving net-zero emissions. As a result, they will bring back knowledge to create real-world impact.
Collaborate on Pressing Sustainability Issues
The event enables collective problem-solving on the data industry's soaring energy appetite. Furthermore, attendees will help shape a unified roadmap for a sustainable, cost-effective future.
Forge Connections with Fellow Leaders
The summit fosters an environment of open innovation between competitors, researchers, and policymakers who share a passion for green technology. Attendees will build expansive networks to exchange insights and embark on collaborative ventures that accelerate sustainability.
There is no better place to help lead the sustainability revolution and future-proof your organization against rising costs and scrutiny. So, register today!