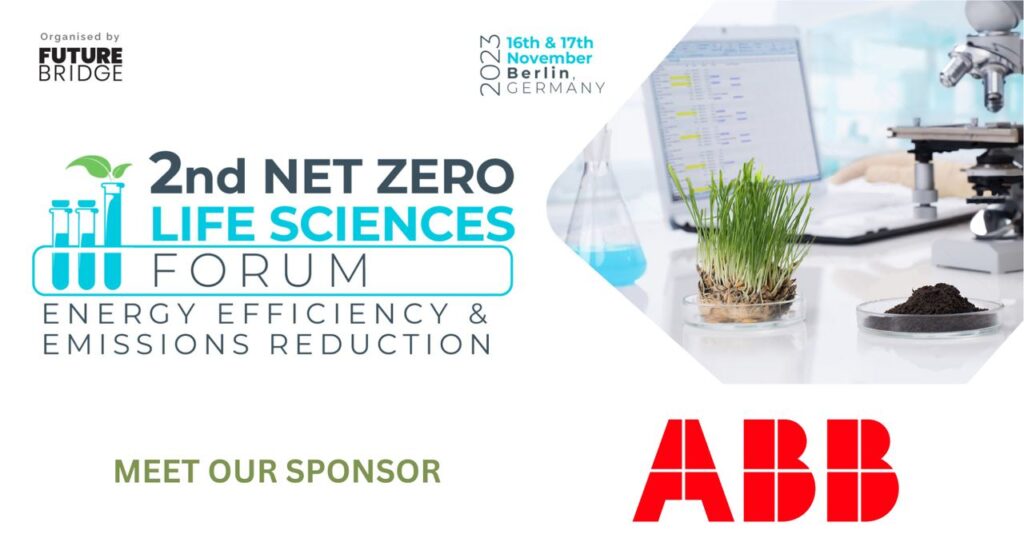 Sustainability is becoming a rising concern amongst organizations. With climate change accelerating, companies are realizing themselves to be at the center of it. Mounting pressures are faced by them from investors, regulators, etc. to reduce their environmental footprints. So sustainability no longer remains an ethic but a core business imperative. The 2nd Net Zero for Life Science forum is a step to turn this pledge into action. It takes place in Berlin, Germany on Nov 16-17. The event will provide insights into the practical steps needed for the net zero transition. Attendees will discover technologies, strategies, and partnerships to optimize their progress.
ABB leads the way to sustainability through sponsorship
The forum has recently welcomed ABB as a sponsor to the highly acclaimed event. ABB powerfully assists industries in their transition to sustainability. They do it through their expertise in smart electrification, automation, and energy optimization.
ABB is currently exemplifying strategic focus areas like sourcing renewable electricity, and electrifying fleets. This comes sequential to being committed to carbon neutrality by 2030. The firm is partnering for effect by taking part in programs like EV100, RE100, etc. The 2nd Net Zero for Life Science forum aligns closely with ABB's sustainability vision. As a sponsor, ABB aims to engage participants in dynamic dialogues. These are the ones that will collectively advance the industry's carbon-reduction efforts.
Decarbonization-based forum programming
Over the course of 2 days, the attendees will gauge an idea of the latest approaches to reducing emissions. The forum follows a diverse format including keynotes, panels, fireside chats, and interactive sessions. So experts like Carel will leverage those to share their insights and practical experiences. They will highlight the latest strategies, technologies, and best practices for carbon neutrality.
The agenda covers key topics for optimizing facilities, assets, and campuses. It includes HVAC enhancements, renewable energy integration, water conservation, waste management, and sustainable design.
As carob reporting is also becoming a norm, attendees will get up to speed with data collection, analysis, etc. They will find out how automation or digitization provides visibility into emissions. That too across operations and value chains.
Collaboration stands to be crucial to reduce scope 3 emissions. As a result, the forum reflects a track to engage partners. The participants will create plans for ecosystem-wide cooperation.
Effective opportunity to learn and make profits
The forum stands to be exclusive with over 30 industry leaders and more than 80 attendees currently like Carel. Moreover, there are over 20 hard-hitting sessions and 7 networking ones. This provides a way to benchmark best practices by learning. As the experts come from various ecosystems, the roundtables can prove to be extremely fruitful. Shared challenges like cleanroom efficiency benchmarks and promoting green behaviors can be dealt with easily. As per Infosys, 9 out of 10 execs have claimed to get insane profits after implementing sustainability practices. So this turns out to be a growth opportunity as well
Who should attend it?
The forum amongst others can be supremely beneficial to sustainability leaders and cross-functional experts. Especially the ones driving the net zero transition. So it is for VPs, CEOs, CFOs, MDs, directors, heads, and managers overseeing sustainability, ESG performance, emissions reduction, environment management, energy optimization, site operations, manufacturing, technology investment, process design, renewable energy, and related areas.
What are the key elements that you will get through the forum?
By participating in the 2nd Net Zero for Life Science Forum, attendees will:
Learn practical strategies and technologies from experts to progress toward carbon neutrality
Engage in dynamic discussions with peers and expand their thinking around sustainability opportunities
Discover solutions for optimizing energy, water, and waste to improve the eco-efficiency of operations
Explore the role of data, digitization, and automation in tracking and driving emissions reductions
Develop approaches for supply chain collaboration and addressing Scope 3 emissions
Forge partnerships with leaders and solution providers in various industry sectors
Share ideas to co-create pathways to a more sustainable future
Take away inspiration to turn ambitious carbon commitments into measurable impact
The drive towards decarbonization is gaining momentum across the life sciences landscape. As stakeholders align around the urgency of climate action, events like the 2nd Net Zero for Life Science forum create spaces for progress.
Book a seat for the https://netzero-events.com/2nd-net-zero-for-life-science/